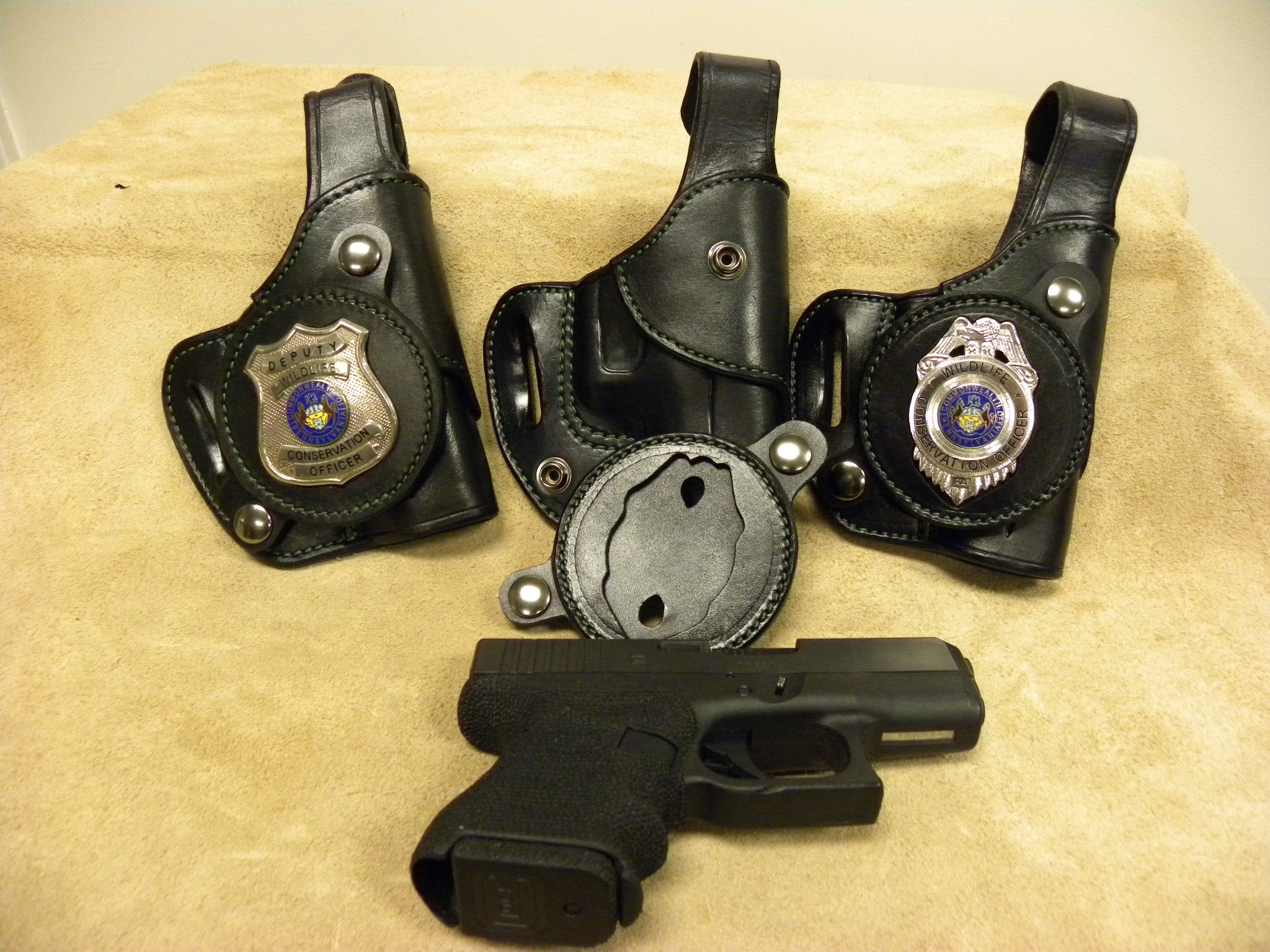 Has this ever happened to you? You're sewing leather holsters for a military and/or law enforcement application on your industrial leather sewing machine and you come to the part where the belt attachment clip is, but you can't sew a straight seam because the clip is in the way. Don't worry. Take a look at these tips for help:
Cylinder Arm Machine – It is much easier to sew close to pockets or molded leather that conforms to a pistol, knife or other raised items in your work using a cylinder arm machine. The machines based on the Juki 441 design (a cylinder arm design) have various needle plates and feet available for different things like sewing leather holsters, saddles, handbags and stirrups. Not all cylinder arm machines have the variety of plates available that the 441-type machines do.
Various Needle Plates – When you have a project that won't lay flat on your standard needle plate, or when sewing up close to preformed, molded leather, what you need is a needle plate that is specially made to provide extra clearance. These are holster plates, stirrup plates and slotted plates, depending on the application. They replace the standard needle plate and the feed dog is removed. The holster plate's sewing surface is raised up about 3/8ths of an inch, flat across the top and the left side of the plate's surface is narrower than the right. The stirrup plate can be up to ½" high and is rounded to fit into stirrups or the corners of luggage, for example. The slotted plate is simply a plate that is not raised but the slot is only wide enough for the needle. The slotted plate is used on strap goods, or when top stitching is a must.
Presser Feet – If you want to sew a line up close to the gun on a holster, it's good to have a right toe outer foot to use with the holster plate. Remember that you will lose some thickness capability when using one of these plates, which is one of the reasons to have a machine with adequate lift for holster and saddle work. If your machine has over an inch of lift and can sew up to 7/8", losing 3/8" to a holster plate usually isn't a critical difference. Sometimes you might have to make presser foot adjustments to compensate. You may also have to file the plate down and make it a little smaller.
Gussets and Zippers – Use a stirrup plate whenever you are sewing gussets into firm leather, like on saddlebags and purses or zippered gussets into day planners. It allows the work to be raised up and provides an area for the gusset to stand up and sew tight. Such a plate makes it easier to stitch gusset corners of thick veg-tan, especially in the middle, where you have two gussets coming together with the center divider, which results in three layers of leather.
Reliable Suppliers – As your firm grows, your product line will also grow. Your business will need a lot of different machines to be able to keep up with more needs and orders from your clients. A reliable, successful and well-equipped leather shop can produce customized leather goods as well as high sales volume production items.