Hey Steve Mark here from circle l custom leather thought you would like to see a hand bag that was made for customer for Xmas and without my cobra would not be possible thank you again for working with me to get it out as fast as possible next is a strap cutter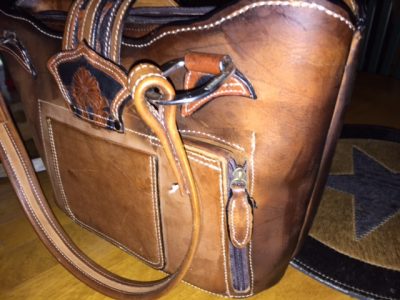 The purse was my entry into the Art of the Cowboy Makers 2012.  I want to thank you for your contribution and support of this wonderful show.
Barely Running Saddle Shop
La Grange, TX
http://barelyrunningsaddleshop.blogspot.com
These creations were submitted to Leather Machine Co. by Nanci Rogers. She owns and operates Ace High Leathers in Montague, California. She used the Cobra Class 4
Business name:  Ace High Leathers
Location:  Montague, CA
URL:  www.acehighleathers.com
Owner:  Nanci Rogers
Machine:  Cobra Class 4 "Dream Machine".
Hedley Pepper
This beautiful Handbag made by "Pepper" using our Cobra class 4 Leather Machine. The bag is fully lined, and has three pockets on the outside, one of which is zippered. The inside lining has four pockets, one of which is zippered. The pockets are all lined.
Hedley Pepper
Santa Rosa, CA, 95405.
E-Mail: Hedley-Pepperwood@sbcglobal.net
Website: Coming soon!