---
November 9th
In my opinion, you should make the drive. It's what you get in knowledge from Cobra Steve and his team that is invaluable and make the trip worth it.
Not knocking Tandy but do they walk you through everything step by step and give you expert tips? Do they have decades of expertise in leather sewing? I don't know, maybe they do.
All I can say is that the hour or so that I've spent with the Cobra Team going over new equipment was worth more than a couple hundred dollars. It also put people to the product. It's nice to have a relationship with your business vendors and suppliers. LMC will be there for you, I like that they are just a phone call away and I can put a face to the name.
Jose J. Rodriguez
---
May 8th
I agree. Back in the day, it was all Cobra Steve answering every call. This company has our backs. They care tremendously that we succeed. I can turn a 360 on my ranch and point out so many pieces of equipment, new or old, where the manufacturer does not care if their product operates, or if their customers are happy. LMC is the best of the best for their commitment to customer success, and their products are best in class.
Elizabeth
---
March 10th
Thanks for the help Cobra Steve! Got the presser foot height dialed in and Vince was able to show me how to adjust the servo motor speed.
Stephen
---
I just wanted to say THANK YOU for our Cobra 4 being shipped the way it was. I have been in trucking (LTL) business for 22 yrs and have seen a lot of LTL packages shipped. Most companies never take the time to secure or shrink wrap the right way. I'm totally blown away at the attention to the packaging of the machine for shipping. Thank you so much. Paul and Amanda Tillman @ Lael Leather Works
---
December 13th
This is my second pair of boots side-seamed on a Cobra Class III sewing machine.
What a user-friendly sewing machine and it sews a beautiful stitch too. The side-seam was stitched at six stiches per inch. I highly recommend the pre-wound bobbins make my job a lot more efficient, priceless! I made my first pair of boots forty-one years ago. I wish I had a Cobra Class III back in all those years that I struggled with sewing the side-seam on "Other" sewing machines. This sewing machine improves my Bootmaking workmanship and appearance of the boots too. The Customer service is Fantastic! Steve, David, and all the crew have provided me "Outstanding Customer Support."
Thank You,
Brian C. Thomas
---
July 9th
Just wanted to thank you for your great customer service. We needed a new motor and you not only sent it out…we received it the very next day. I got it installed and was working again within 24 hrs! Can't get over your commitment to your customers. THANK YOU!
Robert Vandenburg
---
May 30th


Steve, Dave and all~
We absolutely LOVE that new Cobra 8810 post bed machine.
Wow, it makes my bag finishing SOOOOO easy after years of struggling to finish off my bags.
Look how the top edge of this white bag went together with that 8810!
I used the Class 18 for the flat stitching and then closed it with the 8810.
I am thrilled and hope you appreciate the beauty as we are appreciating your machines!
Thank you for your awesome machines and the best service a girl could ask for!
Marlys Sellmeyer
760-265-2256
---
October 24th
I just wanted to say "Thanks!". I received the NP4 in perfect condition. It only took a few minutes to get it set up and working. It's a great machine. Besides that it looks really nice sitting beside my Cobra 4! Thanks again for great machines!
Rex Jerome
---
August 1st
I just wanted to thank David for his help and patience in helping me get myCobra 4 Servo going again, this morning! Outstanding Customer Service!
Peter M. Reed
---
March 20th
What you are walking into is an archaic world. The information that we are passing along here has been handed down for Generations face to face. People expect to find some magic book or instruction manual. The reality is that those things just don't exist. Cobra Stevehas single-handedly started a revolution. A paradigm shift if you will. Basically he had been Distributing Trade Secrets freely for the past decade. He's one of the first honest sewing machine vendors I've met. I have to tell you most sewing machine vendors of old arer like used car salesman. They would sell you a lemon knowing it was going to break down and charge you to fix it. Steve started teaching people how repair and maintain their equipment so that they wouldn't have to suffer those kind of aggravations. Anyway my hat's off to Steve.
Al Bane
---
March 15th
Time for TWW. I didn't get it set up in time last week to post. I had fun rolling out to Leather Machine Co with my friend Al Bane to pick up a new burnisher. The way things are going, this thing will have paid for itself by the end of this week. Thanks again Cobra Steve for the new toy and the awesome customer service.
Brian Aboozia
Ronin Leather
---
February 20th
Guess who is hooking up there new post machine. Thank u Cobra Steve of leather machine company. It will look good with my other workhorse. Also your service after the sale. Is top notch
Billy Freeman
---
February 16th
I can't wait any longer. I have been in the customer service business as an electrician for about 35 years and dealing with all types of people weather they are customers or workers. I have never had the privilege of working with a better service crew than I am working with now at the Leather Machine Co. I had a problem with the table sent to me at first and Steve even answered the problem on a holiday referring me to a young lady in front who sent me to Dave who fixed and answered my needs immediately. Boy am I proud to be a member of this family. I was always afraid to order a sewing machine because I am self-taught with know one to talk with, but I now believe my problems are over. I have a great family now that will help me in any way possible. I am one happy camper and customer. I Highly recommend Steve and staff to any leather maker. Even his guest on his video's for his machines are top notch. Thank you again.
Russell Payne
Laramie ,Wyoming.
---
February 2nd
For young guy's and gal's this might have been a 2 hour job, but for some OLD men, this took more… :). Saddle Skirt. Stitched with NEW CLASS 20,,, LOVE THAT MACHINE! Got the class 4 into the trailer, with the help of the Arien's front loader. Now have to wait on two people to lift it while I bolt it down… It is hard to find strong men that aren't working at something…Edges were done with Cobra Burnisher. If you don't already own one, it ought to be your next purchase. Takes nearly all the work out of doing edges!
Kenny Stites
---
January 3rd
Steve,
Wanted to take a few minutes to tell you how impressed I am with this Cobra Class 4 sewing machine. First, delivery was fast and the machine was packed very well. Instruction for assembly were easy to understand as I had the machine assembled within 1 hour of delivery. As for how this machine performs, well, I am very impressed. I have completed several projects in the past two days. The control I have with this machine versus my previous
machine is incomparable. The confidence the Cobra 4 gives me is definitely worth the price.
Again, thank you for providing such a great product!
Bobby Lewis
Brush Country Leather
---
December 23rd
I received my Cobra Sewing Machine yesterday and I must say I am impressed. Packaged extremely well and convenient to transport and handle. Cain't wait to get it unpacked.
Terry D Russell
---
July 20th
Steve and Company: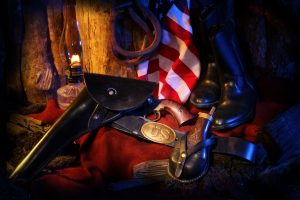 I want to take this moment to express how pleased I am with my new Cobra 4 machine. I had been doing leatherwork as a hobby for about ten years when, in 2014, my wife convinced me to open my own saddle shop. At first I wanted to do everything "the old fashioned way," which meant a lot of hand stitching. Although it started as a saddle shop, holsters, knife sheaths, and belts comprise about 80% or our work. With so many custom orders coming in, it didn't take long to realize hand stitching wasn't going to work. I was getting further and further behind in filling my orders. After six months I decided I needed to buy a stitching machine.
I am not a mechanical kind of guy. Motors and I have never gotten along. Being reluctant to buy something too complicated, I opted to buy a non-electric stitching machine. I won't mention names, but it was the kind of machine in which you pull down an arm and one stitch is applied. I was really looking forward to using that machine to increase my productivity.
Boy, was I disappointed! That machine turned out to be a $1500.00 piece of junk! I spent hours on the phone with their customer service techs trying to get it to work properly, but nothing helped. I was plagued with skipped stitches, jams, and a tiny throat space that made it difficult to stitch large projects.
In frustration, I put that stitching machine in a closet and went back to hand stitching. And, back to getting further and further behind in completing my customers' orders.
But, then I attended the 2016 Southwest Leather Show in Prescott, Arizona! I took Chris Andre's three-day holster making class. He had two Cobra 4 stitching machines set up in the class room for us students to use. From the very first moment I used one of those machines I was hooked!
The Cobra 4 is truly a Dream Machine for leather workers! Before that trade show ended I went to your sales display and ordered a brand new Cobra 4.
My new machine arrived at my shop in a reasonable time. I was impressed at how easy it was to unpack and set it up! Two hours after it arrived I was stitching with it!
I've now been using the Cobra 4 for over three months AND I HAVE NOT HAD A SINGLE PROBLEM WITH THE MACHINE! It is awesome! I've made a lot of holsters, knife sheaths, belts, and other gear on this machine and it never lets me down. Lubricate it once in a while, keep a sharp needle in it, and this thing just keeps stitching and stitching!
Thank you for providing such a great product. For a guy who has always hated "technology," I have been astounded at how many times I've been sitting at my Cobra 4, stitching away, and thinking to myself, "Man, I love this machine!!!"
Respectfully,
Charles Lamica
Owner,
Boulder Creek Saddle Shop
Kettle Falls, WA
---
May 3rd 2016
Thank you Steve and David for making me glad I bought a Cobra.  My application is different than most of your customers.  I sew thin nylon fabric with thick #346 thread, a necessity for the strength needed for my product.  This created special problems that you stuck with me and made sure that my Cobra Class 4 did the job right.  Time after time you helped me and sent accessories and sewed samples that enabled me to get the job done.  What everyone says about your customer service is true:  You are the best.  Anyone can sell a sewing machine, but there is only one best customer service and that belongs to the Leather Machine Company.  Thank You!
Dale Kirksey
Conway AR
---
April 8th 2016
The cobra class 4 has changed my life as a leather worker. After extensive research and visiting the sales office in person, I finally pulled the trigger and I recently purchased a Cobra Class 4 machine. I have been making whips and leather goods for friends, family, and myself for over twenty years.
I must be honest in saying that Steve was the deciding factor. His honesty, passion for his customers, and knowledge not only impressed me, but it ultimately influenced my decision to purchase this machine. In addition, his staff was equally dedicated to service and offering help after I brought the machine home. As one of them bluntly stated "you're now part of this family." I had the machine up and running within 20 minutes and was in my workshop ready to go.
I have called Steve briefly on two occasions to ask questions and he always answered the phone or was less than a minute away. Steve is the consummate professional in every way. I would never hesitate to recommend the Cobra Machines to anyone wanting to purchase a machine that will do any kind of sewing of both leather and heavy fabrics.
In today's world, you often do not get what you pay for and much of the time we do not get service when needed the most. Leather Machine Company has delivered for me and continues to. They have met my expectations and then some. The art of hand sewing leather is fine for personal items and doing "one off" items, but if you want to start producing items quicker and with the same perfection, then a heavy duty professional machine is a must have. I no longer hesitate to go into my shop and make a holster, sheath, belt or other objects because of the time it would take to hand stitch. The machine will quickly pay for itself.
I am very pleased and wanted to take a minute to write a quick review for others who may be sitting on the fence about where to go buy a heavy duty stitch machine. I highly recommend Leather Machine Company and the owner Steve.
R. Maguire
Redondo Beach, CA
---
May 20th 2015
This is a HUGE shout-out to Steve.
Every Time! Every Single Time I have a simple question and complex questions, I always get the best, most informative answers from Steve.
I think it's all the guy knows is how to be descriptive.  What a Great GUIDE he is.  Absolutely goes above and beyond for his customers.  In my personal experience, he has rapidly shipped out replacement parts to my machine, got them within days.  I live in OK so from Cali that's super-fast.
It's true what Leather Machine Co. claims = Steve is ALWAYS AVAILABLE EVERY TIME OF DAY to answer questions, even in odd hours in my personal experience.
Super impressive customer service.  And returns calls promptly.  When I call to question on techniques, parts, and other things, Steve, every time lends the most detail oriented suggestions.  As in, he will give you the background on everything you question along with the history of why the parts are designed the way they are to why they work the way they do = most detailed descriptions to make sure we, the customers, are better knowledgeable and feel comfortable before moving ahead.
SUPER PATIENT MAN, SUPER AWESOME TEACHER, MENTOR.  FUN PERSONALITY.  RUNS ONE PHENOMENAL COMPANY!
I LOVE doing business with these people, EVERY TIME!
Sincere THANK YOU to STEVE and LEATHER MACHINE COMPANY.
Sending my Best,
Philip Pizzi
PELLE di LUSSO
Luxury Leather Goods
www.facebook.com/PELLEdiLUSSO
405.664.4830
---
March 31st 2015
On Feb 21, 2015 out lives were turned upside down when our barn which housed our leather shop, tack shop and 26 years of memories burned to the ground. Taking 7 great dogs with it.
In the days that followed I started making calls to price machines to replace what we had lost. My first call was to Steve at Leather Machine Co. We bought our Cobra Class 4 …6-7 years ago and absolutely loved it. I explained our situation to Steve and 3 days later our Class 4 was delivered.
Steve told me I could pay for the machine once I was back on my feet after the fire. What a wonderful and compassionate Company! Steve is always able to answer questions and walk you thru any questions you may have. One day my machine made a sound and he sent me a brand new motor FREE. My light went out and he sent me a brand new light FREE. Steve and his crew are Professional. Reputable, and very Responsible and all around great people to work with.
We love Cobra and are happy to be part of the Cobra family.
Cobra for Life
Dale & Shelley Peterson
Toppenish, WA
---
March 25th 2015
I purchased my cobra class 4 from the Leather Machine Co. in 2009. I had done my research and when the time came, I decided to go with the Cobra class 4 and believe me I have not regretted making that decision. Steve has been there for me since the day of the sale six years ago. I can honestly say he has the same energy and interest in helping me today, resolve issues as he did six years ago. My machine has worked and performed just like Steve had said it would. To those of you who are thinking about purchasing the best sewing machine in the market out there, get the cobra, believe me you will be glad you did when you come across issues and need to speak to somebody that will patiently guide you and not make you feel you a bothering them, taking up there time, asking elementary questions ect. Why, I can recall back in 2012, I called Steve at about 11:00pm Texas time with a bobbin shuttle issue. Well, he took my call and walked me through my predicament. When I hung up it dawned on me it was 9:00pm California time. Wow, now that is customer service at its finest. Amigo Steve, thank you for caring. I understand why people say you are numero uno! I am glad to have you in my corner.
Eloy Chavez
South Texas
---
March 10th 2015
Just a quick note that I got my Class 4 yesterday. Great delivery, great packing, Put together in an hour. Stitching away. I've been tweaking and getting used to the machine. I do love it, very, very good stitcher! I'll write up a review and send some picks for you.
Darren Tarr
---
November 24th 2014
Mr Steve- I am enjoying the hell out of my class 3 I bought in 2008, and my 18 I bought this year. In Late Feb/early March I intend to invest in the class 4, patching machine, and probably the splitter too! Y'all keep up the great products- I'm a customer for life.
Aaron Heizer
Heizers Custom Leather
---
September 25th 2014
Ben and I would like to thank you so much for your excellent customer service. Ben just loves both his Cobra Class 4 and Cobra Class 14. While shopping for a leather machine we did a lot of research and the one thing that kept standing out is what people were saying about your customer service, which of course is very important to us especially being all the way in Hawaii.
We now know that we made the right decision and have witnessed your excellent customer service first hand. Ben not only makes Hawaiian Tree Saddles but also does knife cases, phone cases, purses and much more all with the help of his Cobra Machines.
Sheri & Ben Catriz
---
August 25th 2014
I have worked on the cobra patcher and… I LOVE it! Wish I could get one!!! they are such a sweet machine… easiest one to use, stitches beautifully and gets the hard to reach spots… I have been drooling over them for quite some time!!
Lisa Jones
TailoredGypsy.com
---
August 22nd 2014
Just a quick note to say how much I appreciate the new equipment we purchased from the Leather Machine Company. The class 4-25 is the nicest sewing machine I have ever used and the needle positioning system is such a luxury. Speaking of luxuries the 14 inch motorized splitter certainly is appreciated. The last time I used a motorized splitter was when I worked at Porter's in Phoenix as a kid.
While I am on the subject of feeling Blessed, I want to thank you for the MP Finisher. It replaced our Champion Red Line finisher. What a nice machine. The vacuum system is far superior to any I have used in different shops.
All in all, I have this to say about your company. "The Leather Machine Company is right on track with quality, affordable equipment."
We are looking forward to supplying our shop with more equipment from the Leather Machine Company. We own a full service boot and shoe repair shop as well as our custom leather and saddle shop.
We appreciate all the great service which as many in our industry know is very rare these days.
As owner of Bluffs Shoe Service of America, LLC and Nile Valley Saddlery, I encourage all in our line of work to take a serious look at The Leather Machine Companies equipment. Dave and Steve are very knowledgeable and very willing to help in all situations.
Thank you Dave and Steve and Marilia,
Sincerely,
Dan Flower
Bluffs Shoe Service of America, LLC
---
June 17th, 2014
I tried my new burnisher on some key fobs I had orders for and thought it did a great job but they are tiny. So, I had a practice sewing piece a little thicker and tried it…wow…my new burnisher from Cobra Steve did a bang up job. I did this in about one minute and didn't even have the end sanded quite even. My steps were: sanded edge, got it wet and beveled, then used the wood groove that fit my leather best using only liquid saddle soap on the edge. What a great job in about a minute! Thanks Steve!
Pat Sloss
---
June 16th, 2014
I want to add my name to your testimonials. I have had my Cobra 4P for a couple of months and could not be happier with both the service and the machine. After assembly, it worked without issue. I have sewn down to a #23 needle and 138 thread on 6 oz. leather, and up to a #27 needle and 415 thread on 20 oz.. WOW! The only adjustments were to tension and bobbin windings. I will recommend the Cobra 4 and Steve's company to anyone who needs superior service and quality. Sincerely , Jim Reeser Salt Lake City, Utah
James Reeser
---
May 14th, 2014
Hi Steve,
I remember watching TV at night and spending hours sewing projects I was working on. I made four book covers for our children that took me 12 hours of sewing night after night. When I made the decision to purchase my Cobra Sewing Machine I had never threaded a sewing machine in my life let alone sewn leather with one. When I received it, the instructions made it easy to set up. Then between your videos and the instructions that came with it I was soon sewing projects. What took me three or four hours to punch and sew now takes me 5 minutes and the stitching is absolutely beautiful. The machine is cheap at twice the price if nothing else but in the time I save sewing by hand. I keep it well oiled and I use it every day and I haven't had one single problem. I couldn't be happier with my Cobra series 4 machine.
Barney M. Perrine
Max LeatherWorks
Warrenton, Oregon 97146
---
May 10th, 2014
I received my burnisher on May 5 and just wanted you to know that I am very pleased. This is a perfectly balanced and quiet running machine that will save me countless hours of sweat and toil. I also own a Cobra 4 which I purchased from you about a year ago that continues to run flawlessly. You treat your customers right and I really appreciate it.
Brent Ismay
---
February 26th, 2014
Hello I own a Cobra Class 4 that I bought from Greg (Queensland Sewing) in Australia. Awesome machine!! Best thing I ever bought!
Marj Petrovski
---
February 13th, 2014
Name: Sue Ellen Correa
Location: Echo, Oregon
Comments: I just love my Cobra 4! It does an amazing job on everything I've tried! I've never had a problem with it, and was impressed that Steve remembered me from when I bought it! Thanks for the great machine!
---
February 10th, 2014
Steve and Staff,
I just wanted to drop ya'll a note to say I am very pleased with my new Cobra sewing machine. I have stitched several holsters and belts. It is a dream to operate. Makes me wonder why I stayed with the Landis III for so long.
I also want to thank you for the way you and your staff treated us at the Boot and Saddle Makers Show in Wichita Falls, ya'll were very informative and took the time to really show the machine and answer any questions we had.
Thank you again, we are satisfied customers and look forward to visiting again next year.
Dan and Lynn Peterson
Peterson Leather Works
Abilene, TX
---
February 6th, 2014
"Hey Steve! Had to brag on you my friend–both the machines I got from you run like clockwork, and perform over and above. Best part? I know who to call if I break somethin'!"
"My friend Steve Tayrien. He owns Leather Machine Co. Inc. out on the left coast. If you're in the market for most any type of leather machinery, call Steve. Great guy, answers his phone, and never forgets a customer."
Bruce Gibson,
Florida
---
January 18th, 2013
Steve,
Just wanted to take the time to say thank you for your support during the recent purchase of my Cobra Class 4. It's a fantastic machine that's up to any task no matter how thick the leather. I'm an amateur using an old Singer that wouldn't sew an even stitch through 2-3 oz. leather on a good day. I was frustrated to say the least. I read the forums and gave you a call. I had my Cobra class 4 in a week. Watched the video, set up my machine and have been sewing with ease ever since. This machine makes me look like a pro. If you're going to do it, do it right with a Cobra Class 4.
Thanks again Cobra Steve!
Gordon Grassham
San Antonio, Texas
---
January 16th, 2013
Gabriele,
I have finished many products on my new Cobra Class 4 and I am very happy because the machine works very well. You are very good at building these machines! Thank you!
Gabriele Fantin, Italy
---
Kirk Willson
David and folks at Leather Machine Co., I received my new Cobra 4P package and I'm extremely pleased with the machine and all of the support from David in researching, ordering and receiving the package. I live in Lahaina, Hawaii and often have troubles getting large items shipped. David was very knowledgeable about the process and got me a quick and reasonable quote for shipping. The package got here pretty timely and it was obviously handled with care. The instructions for assembly were helpful; especially the videos, and I got the machine up and running the first day. I'm really enjoying learning as I try new projects. It's quite obvious this machine has all the power and control advertised.
I must say, I spent many weeks researching machines and companies and I could not be happier that I selected Leather Machine Co.
Castaway Designs, Maui
---
Tuesday August 20, 2013
NateI've been using my Class 4 now for a couple months. After some learning curve and some phone calls to Steve who was always gracious and helpfulthe machine is working like a dream. I couldn't be happier.
From: Crete, NE
---
August 17, 2013
Henrik "Boothill Bob" BrandtI got my cobra class 4 yesterday and darn I´m happy. The machine is almost stiching by it self.. Thanx for a nice deal..//
Boothill BobFrom: Sweden
---
Saturday August 17, 2013
JJ SissonDefinitely a two thumbs up for the Cobra 14″ leather splitter. Steve you did good with this one sir! What I like input this machine is it has forward & reverse as well as quality speed control. With the fine leather work that I do making sandals and beaver tail ID wallets, I need to control my splits. This machine was the answer. My Randall 18″ is great but this takes it to the next level. I split 10-11oz and horse hide with the simplest of ease. Thanks Steve for a wonderful product.
From: Milwaukie, Oregon
---
Tuesday July 16, 2013
Michael O'MachearleyJust received my new Class 14 leather splitter, WOW! Went together flawlessly except for one small glitch. One quick call and problem solved! This thing goes through ANY leather like butta! I will recommend it to all,
From: Wilmington OH
---
Thursday March 28, 2013
Paul Long Steve, I think the Cobra 4 is one of the finest machines I've ever owned and used, but……the new Cobra 14 Splitter is just amazing. The precise splits are something to behold and the extra width at 14 inches opens up a whole new experience on what can and cannot be split. I am now splitting formerly scrap leather of the belly trim into very useable 2/3oz pieces. The top grain is good and the rest goes into the trash. Overall big $$$savings from what used to be all trash. PaulLong
From: Kerrville, Texas
---
Friday March 8, 2013
Mike Cannell My New cobra arrived well packed On a pallet was very easy and straightforward to put together and I was up and running in no time , I would like to take this opportunity to thank Steve and David of the leather machine company for being so thorough and helpful since using it I have had a few questions and Steve has answered them with ease , Boy does he know that cobra inside out ! Which is worth more then anything to me as I am miles away across the pond. I would buy my machine from Steve without any hesitation. And I can't recommend him highly enough. This is definitely a company with a difference Many Thanks Mike
From: London U.K.
---
Friday February 1, 2013
Dennis Asberry I have had my Cobra 4 machine, for over 2 years. At first I was a bit intimidated with its setup. However after watching the DVD several times and taking notes I was able to do just about anything. I have learned using this powerful machine the impossible is possible!
From: Kansas City, MO
---
Wednesday January 30, 2013
Ted Radke I purchased the Cobra 4 2 years ago and it is still as advertized, the best. The Electronic Positioning System makes sewing cartridge loops a dream. Most important, I had only one problem, caused by me, and Steve had is solved in less than 4 hours and I made my deadline on a 22 Cal cartridge belt. Thanks Steve
From: Deadwood South Dakota
---
Monday December 31, 2012
John Eddleman Just following up with my emails here. The splitter finally arrived last Thursday at my local Ace Hardware store, I'm good friends with the manager and he had the crew unload it and put it safely in storage for me till I could get there. Awesome people those guys, anyway my wife and I got it into the shop and didn't take long to put it together. I want to thank you guys for such an awesome job on packaging/securing these machines we buy from you, good job. I ran some of my lace leather through it and I think in 2 seconds I had it figured out. This is without question the best leather splitter to be had anywhere, congratulations to you and Steve for coming up with this great piece of machinery. My hats off to you all at leathermachineco
---
Thursday December 27, 2012
Travis I just wanted to send a huge thank you to you guys! Not only were you a pleasure to deal with, your help and advise was greatly appreciated. When my machine arrived it was set up easily and when I did the first test run it sewed to perfection! I have not adjusted a thing, thanks so much for everything! Travis
From: Canada
---
Saturday December 8, 2012
Dennis McVey One of our first products with the new machine. Incredible how smooth and efficient it is! Not one missed stitch or broken thread in 2 days production. Adios.
Dennis McVey
---
Thursday December 6, 2012
Jennifer Petersen Dear Steve and gang, I appreciate my machine! From what little I'm getting to use this wonderful machine I can already tell you its going to make my tack repair business so much easier than the way I'd been trying to do it!! I hope it continues to do such a great job for many years!! I appreciate it so much! Want to wish you all a very merry Xmas and best wish on a happy new year!!
Sincerely, Jennifer Petersen
---
Tuesday November 27, 2012
Mike Cannell Hi Steve, Just a quick word to say a big thank you for you candid and honest advice helping me with my numerous questions. I am now looking forward to recieving my New Cobra class 4. Once again Many Thanks for all your help. Mike.
From: London United Kingdom
---
Friday October 26, 2012
Rino.C Bernard Hi you all, Just to let you know how impressed I am with your Cobra Class 4 and the service that I got with it. I love it! I made some horse harness tugs the other day and it just passed through 6 thickness of nylon webbing like if it was going through melted butter! I thank you guys for the help and good service I received. Best regards Rino
From: New Brunswick, CANADA
---
Tuesday October 16, 2012
Michael Hardwick I wanted to send you a quick note to tell you how pleased I have been with my Cobra 4 machine. It's an amazing tool when stitching up multiple thick layers of leather in knife sheaths or holsters. For portfolio covers, Kindle covers, and other such items, the stitching is consistent and smooth as butter. It's so great to own something that is as dependable and reliable as this machine, and it's fun to show it off to visitors, and demonstrate how easily it punches through several layers of leather with ease. It has taken my leather projects to a new level, and opened the door to some complex and intricate efforts that would not have been possible with a lighter weight machine, and almost impossible and downright painful if attempted with hand stitching. Your service during and after the sale is commendable. When I ran into you guys at the Boot and Saddlemakers' show in Wichita Falls, it was a great feeling to know that you remembered me, and were still willing to answer all of my questions. Here's wishing you guys continued success with the Cobra 4!
---
Friday September 28, 2012
Mr Gadget Your Cobra 4 Harness Stitcher is fantastic! We have had it for over a year, it saves us a bundle of time. I regret not having it decades ago. Although the following machines are for different applications, comparing the Cobra 4's stitching with our Rapid II outsole and Besser Insole stitchers, Claes and Adler patchers—the Cobra beats them hands down, due to its feeding mechanisms. It stitches reliably. The adjustable stand with the wheels' locking mechanisms is well thought out. The electronically adjustable speed motor is silent- can't tell it's on unless you step on the pedal or look at the flashing led displays. If I were starting afresh, I would acquire your $5,000 finisher. We already have 5 outstanding finishers based on your honesty and quality, what you are offering is a phenomenal deal. It has the revolving turrets like our German Caravelle Combi Hardos, and has a similar footprint as the Auto-Soler TurboMaster and Hardo Dynamic 115 finishers. With trimmers, a naumkeag & heel breaster, belt sanders, vacuum, and revolving brush sections, it is a great finisher for shoe repairers, orthotic fabricators, and hobbyists at an unheard of price!
From: USA
---
Friday September 28, 2012
BILLY COGSDIL We here at NRS in Decatur Tx. have been using the Cobra 4 for a year now, and find it to be a very dependable machine.We use it on a continuous basis on every aspect of the saddle shop,from saddle to belts. thanks for agreat machine that most people can afford. Billy Cogsdil NATIONAL ROPERS SUPPLY SADDLE SHOP MANAGER.
From: DECATUR TX.
---
Sunday July 8, 2012
Frank Zera Dear Steve, Just a short not to tell you haow pleased I am with King Cobra Sewing Machine. I have been making saddles for 27 years. Before i purchased my Cobra I had had 4 different heavy leather stichers in my shop. I can say with all sincerity that your machine is the only machine i have had that does all it is advertised to do. It sews sheep skin lined saddle skirts with ease. It does not bunch stiches. It ramps thickness wonderfully. All in all it is a great machine for a saddle shop and I could not be happier. In a custom saddle shop there will always be a certain amount of handsewing that must be done. Your fine machine has greatly reduced that for me and that increases profits. One other note, your service is outstanding. I never fell like i am abandoned. California to Illinois is a long way but your attention to customer needs is very impressive. Your support and service are greatly appreciated. Thamk you very much. Frank Zera custom Saddle maker , Spring Grove, Illinois.
From: Spring Grove, Il
---
McCormack Hill LeatherThursday June 28, 2012Hi, guys, I love my new Cobra 4! I sure appreciate all the effort you guys went to in getting me a machine that's working perfectly, and it's wonderful. After lots of play and practice I'm getting pretty darn good at using it. I have the speed turned up high but I can still stitch one slow stitch at a time whenever I want. I've got the needles and thread and tension all figured out and it's a lot of fun and very satisfying to use. This is a terrific machine. Thanks again, Julia McCormackFrom: Rathdrum, ID
---
Keith Seidel, Seidel's SaddleryFriday June 1, 2012I really like this new Cobra Class 4! After using it for nearly a year, I find myself using it for more and more projects. it is especially good for detailed work with lots of corners and varying thicknesses. It is easy to change thread sizes and colors without having to re-adjust tension. I still use my Randalls, but this is fast becoming my favorite machine. Keith SeidelFrom: Cody, Wyoming
---
Stanley MarchandFriday June 1, 2012Thank you Steve My Cobra 4 with E.P.S. is awesome!. I would highly recommend the Cobra 4 with E.P.S.,and the leather machine Co. for Excellent customer service,and a beautiful machine.From: Weswood MA 02090
---
ArtSaturday May 5, 2012I purchased the dream machinem and coulden't be more pleased. It is truly a dream machine thanks SteveFrom: Michigan
---
Mike M. BrennanThursday April 26, 2012The Colo. Saddle Makers Assoc. held its annual Spring Seminar in Grand Junction, CO April 13 – 15. Steve attended as a vendor but also provided a working machine for use in the stitching required for the saddle building project. Steve also did a presentation on sewing and machine care and adjustment that was amazing. I had purchased a Ferdco Pro 2000 seven years ago that used the standard clutch motor. Later I wanted to upgrade to one of the new servo motors. I purchased a new motor at Sheridan last year. It was a nightmare to install, never did work well, and I was so disappointed that I was ready to go back to the old clutch motor. However, after Steve's presentation I decided to order one of his servo motors for my Ferdco. To my amazement, it was a direct replacement for the old clutch motor, belts and all. No new holes to drill, no new fitting, nothing. Just bolt it in and go. It made a complete new machine out of my Ferdco. The fact that I was using a Ferdco machine made absolutely no difference to Steve. His knowledge and expertise were freely offered to any and all. Everyone at the seminar learned several things about sewing machines, even those who have been using them for many years. I would be inclined to say that even if his Cobra machines were not the best on the market, which they undoubtedly are, that a person would be ahead to deal with Steve just for the excellent customer service. Put that friendly and excellent customer service with the best machines on the market, and you can't go wrong. Thank you Steve!!From: Meeker, CO
---
Duane BallardThursday April 5, 2012Steve and the rest of the crew go FAR above any company I've ever dealt with as far as customer satisfaction and making a great product. I have a Cobra Class 3 that I use extensively that never misses a beat. They have also worked on my vintage machines, given me advice, help with parts, etc. Dealing with them is like calling an old friend every time.From: California
---
Bob SmithSaturday March 10, 2012Just a note to tell everyone how very, very, satisfied i am with not only the new cobra class 4 dream machine but also the awsome service from david. The cobra is the best machine i have ever owned! I looked for two months before running into david, Steve and their dream machine! the cobra is very easy to operate, very customer friendly,and a beautiful machine! Looking forward to dealing with David and steve again soon! im going after a cobra class 18 later this year! i can tell you i will not look anywhere else for my machines! P.S. you folks do yourself a favor and be sure and get the EPS setup on your machine! It is awsome and well worth the little extra cost! Thankyou! Thankyou!! Smithcreek Angus Ranch Pittsburg,Ks. GOOOD JOB GUYS!!!!!From: Pittsburg, Kansas
---
Jeff SmithWednesday February 29, 2012Steve,David and the crew at LMC have been great to deal with.My class 4 is a joy to run, the stitch is as good as my needle and awl machine and the class4 is so very easy to adjust and run.I also talked a friend into a class18 it to is great I wish I had known about Cobra when I bought my flat bed machine a few years ago. I'llbe buying more machines from Steve in the future.Thanks GuysFrom: Nampa Idaho
---
Layne BagleyWednesday February 29, 2012We have had our new machine for about a month now. It was very easy to unpack and set up. I can't say enough about the quality of this machine cobra class 4 it is a dream to sew with so smooth and quiet. I am having a ton of fun with it. Steve has been very helpfull and friendly through the whole process although getting it up and running has been a breeze and really required no help. I have nothing but good to say about Steve and Cobra.From: Koosharem Utah
---
Steve NelsonWednesday February 22, 2012I picked up my Cobra 4 at the Wickenburg Arizona trade show in Feb. 2012. I got mine with the EPS system and I must say, what a machine. The stitch is so great it is beyond description. Service is over the top. Steve, David, and the crew will bend over backwards to make sure your machine is working perfectly. I could have bought any machine I wanted to, I bought a Cobra 4 because it came with a Steve!From: United States
---
Roger FrostTuesday February 14, 2012Last week I drove to southern California and picked up 2 machines that Steve had special ordered for me. I have a class 4 and a class 17 that I have owned for over a year, they are great machines. The new machines are a class 18 but with a 30 inch arm and a patch machine with a 18 inch arm. I do a lot of big work and needed big machines. THey also work great and Steve, David and the crew are the best. I will be going back to Steve and The Leather Machine Company for all of my future needs.From: Fernley Nevada
---
Jim BFriday February 3, 2012NOBODY I have met does more to provide service! Great machinery and even better service. Steve knows it doesn't end at the cash register. Thank you!From: Colorado
Doc Hole
Wednesday January 25, 2012
I have been doing business with Steve since I started my shop and he is by far the best and most knowledgeable in his field. I would venture to say that this Company will go far with him at the helm and it's products reflect a passion for the leather craft and the industry as a whole.
From: C Bar H Saddlery Yukon, Oklahoma

---

Brannon Bartlett
Tuesday January 24, 2012
Smoothest runing machine i have ever seen. It has made the quality of my work top notch. I love it!!!
From: Cheyenne Wyoming

---

Connie E. Price
Tuesday January 24, 2012
I purchased a class 18 & I just love it! I make duffel bads and wanting to learn to make other things. I tore up 2 machines making bags &in desperation I made the call to order. Steve and the guys were so helpful-they set my machine to run slow-which I wanted-&it sews so NICE!! I just LOVE it! Wish I had bought this last yearmaking up for lost time tho! And did I mention I LOVE my machine?
From: Lindrith,N.M.

---

Richard Holloman
Monday January 9, 2012
Steve is a real nice guy. He read on the Leatherworker.net forum where I was having trouble with my Artisan Toro 3000 and offered to adjust it for free. Long story short, I was able to meet him with my machine and he adjusted it for nothing and shipped it back to me. This was on a machine that wasn't even one of his! Who else in this business would offer to do that? Thanks again Steve, Richard
From: Show Low, Az.

---

David Johnston
Friday December 30, 2011
Dear Steve & David, Our first product from your company was the COBRA Sewing Machine. It is absolutely top quality and fits in perfectly with our production line. The high quality of the stitch, sturdy build, and reliability are unmatched. When it was time to look for a new Finisher we knew we had to come to you first. The finisher that you sent us has been great. In our day to day work we use the finisher to make our top quality products even better and the process is made easier and more convenient having so many different options at our finger tips. Whether it is the sander or the buffer, it works without a hitch and does exactly what we need to finish the edges of our holsters and other products with such a precise and smooth finish. We never knew what we were missing until it was delivered. Thank you for your fine products, great customer service, and speedy delivery. Sincerely, David Johnston Diamond D Leather

---

Gary
Thursday December 15, 2011
Steve, I wanted to take a miniute to say Thank You for all the help with the Cobra Class 4 machine. It does about everything I need it to do at our repair shop here in Junction City Oregon. We repair lots of different items and the Cobra Class 4 handles every job excellently. Can't say enough about it! Thanks again Steve!

---

Cliff Fendley
Sunday December 11, 2011
I've had my Cobra 4 for almost a year now and just wanted to drop a note to say Steve's customer service is top notch. This is my first machine so I naturally had some questions and Steve really knows his products. My Cobra 4 makes beautiful stitches on any weight leather I run through it. Not only is this a great machine you can't find better customer service than Steve's. If you should ever have a problem you can be assured your only a phone call away from Steve and he will have you going again. Thanks Steve for a first rate product and service.
From: LaGrange Ky

---

Bryan Hargett
Monday November 21, 2011
I have had my class4 for about 6 months now and could not be happier. I have been in the leather business for over 20 years and this is the nicest machine I have ever used. The best part is the service that has come with the machine. Steve has answered the phone every time I have called, and had the answer to my questions. Thanks again.
From: Durango, Co.

---

Penny LaSalle
Wednesday August 31, 2011
Steve, I should have written this long ago. Thank you for supplying a wonderful sewing machine for leather workers! I have loved my Cobra Class 4, and have been able to bless many people with good work because of the perfect performance of my machine. I am happy to recommend you whenever I get the opportunity. Thanks again, and God Bless.
From: Diamond P Tack

---

Alan Townley, Sunset Saddles
Wednesday July 20, 2011
I just recieved my class 18 today and what an awesome machine! It is a nice companion for my class 4, which I have had for some time now and still love it, Thanks Steve for great machines and phone support, Alan
From: Ruidoso Downs, NM

---

Robbie Parks
Thursday June 23, 2011
I received my Cobra Class 4 about a week ago. It is an awesome machine! I need to do some minor tweaking to get it to sew what I want it to but I can already tell it will do what I want and more. Steve has been a big help and always answers when I call him. Thanks Steve!
From: Pineville Ky.

---

Al Bane
Sunday June 5, 2011
"Cobra Steve, You Rock!! Thank you for your help with the "80's Rockers Red Cross Tsunami Relief Effort" The Vest was a hit and the Cobra Worked PERFECTLY!!!"

---

Don Alexander
Friday June 3, 2011
Just got the thread and needles. Thanks again. I told my wife that I have to admit, this is the best sewing machine I've ever used. I'm still getting used to it, but it does a great job and it shows in my products!
From: Don's Leather Shop – Frankfort Kentucky

---

Dale Moore
Thursday June 2, 2011
I've been building saddles for over 50 years and have used every kind of heavy stitching machine available. The COBRA Class 4 is the best machine that I have used. It is so smooth, and very easy to use. It works very well in my saddle school, and I am going to purchase another one.
From: Montana

---

Dale Miller
Wednesday June 1, 2011
It has been close to a year now that I have been sewing with my "Dream Machine" Cobra Class 4. All that I have had to do is change the thread when it runs out and a couple of needles that I bent trying to sew old saddle leather back together. I just wanted to say thanks I thought I would have had questions for you and problems to solve with the machine but I really don't have any. Thanks again I would recommend this machine to anyone I am very pleased with its performance.
From: Grandin, ND

---

Michelle
Monday March 28, 2011
Had my Cobra 4 for about a year now. I have other large machines, but this one is far and away my favorite — it's my workhorse. VERY sensitive, stops on a dime, has NEVER jammed! Super control. Sews from extremely thin to extremely thick – never balked yet at anything I've asked it to do. I sew medium-weight chrome-tan handbags. I love this machine.
From: Santa Rosa, CA

---

Flavio Ribeiro
Monday March 28, 2011
I have owned a Cobra 3 for a little over an year now and I absolutely love my machine. It is easy to use, stiches perfect and no problems. Steve is an awesome guy and is always available to help and support when needed. Thanks Steve for this great product.
From: Texas

---

J.D. Folsom
Monday February 14, 2011
Steve, Here's a rough out wade saddle on a Keith Gertsch tree I just finished with my new Cobra Class 4. My machine is quiet, easy to run, makes a nice tight stitch, and doesn't miss stitches even when sewing the sheep skin onto the skirts. Great machine! J.D. J.D. Folsom Custom Leather Jackson, MT 59736 jdfolsomcustomleather.blogspot.com
From: Jackson, MT

---

Angela
Monday January 31, 2011
I have had my Cobra 4 for a couple of weeks now and it is amazing! I had been using a smaller industrial machine and had no idea what I was missing. I LOVE THIS MACHINE! :
From: Murphy TX

---

Chas Barker
Tuesday January 18, 2011
Just wanted to stop by and let everyone know that Steve and the Leather Machine Co. make a great machine! I got my Cobra Class 4 about a year ago. When I set it up I had a few problems operator error, I called Steve on his cell phone and he walked me though the issues and had me sewing great in no time. They offer great customer service and support. I have sewed everyting from saddle leather up to 3/4″ all the way down to 2 oz pigskin lining. I have also sewed saddle pads and horse blankets. I would highly recommend anyone that is looking for a great sewing machine to buy a Cobra from the Leather Machine Co. If you have any questions or want to see the work that this machine can do visit www.chasbarker.com. Thanks Steve!
From: Kingman, AZ

---

Roger frost
Friday January 14, 2011
I would like to tell anyone interested in buying a heavy duty sewing machine that you can't beat the Cobra machines or Steve and his crew for getting them setup properly. I bought a class 17 and a class 4 with EPS. I picked them up at the Leather Machine Co. in Ontario Calif. on Dec. 23rd. Steve spent some time going over them with me. His crew wrapped them, loaded them in my truck and even helped tie them down. I can't say enough good about their service. About the machines, they work great, I was making money from the first day. Anyone interested in a class 4 should get the EPS option. It makes the machine a one handed operation, very easy to learn and perfect one stitch at a time operation. They are built to last for years and will probably be working long after I'm gone.
From: Nevada

---

Joel
Friday January 14, 2011
Well yesterday started out as a most beautiful day for me. The sun was sorta shining and I was having a successful day in the shop. I was sewing the yoke on the second leg of a pair of chinks. The Cobra 4 was purring away making some beautiful stitches. But, all of a sudden the machine made a noise like a plastic fan blade hitting something. The machine froze in place and I couldn't even force the pulley around by hand. This of course was a big cause for Disappointment and there was a black cloud growing over me like a bad omen. So what do I do? I call Cobra Steve the wonder man!! I only live about 40 minutes from Steve's office/warehouse where he keeps all his working elves busy. Steve told me to bring the machine in and his Specialist would take a look at it. So this morning I took my machine in to be repaired. I'd say that Specialist isn't the right word for the fine man that worked on my Cobra4. He fixed my machine and explained that the insides needs oiling also, WITHOUT, making me feel like a total idiot. The Gentleman's name is Tony. I will forever think of him as a sewing machine mechanic hero! Tony, gave my Cobra4 a complete inspection, fixed my machine and made it purr again all the while answering questions posed by me. There is another gentleman at Steve's ' Leather Machine CO .' operations, His name is Tony also. This Tony is the one that puts the tables and motors together He lifted my machine out of my truck and Carried it to Tony's The sewing machine mechanic hero's table to be worked on. These machines weigh about 150lbs.! These gentlemen apperared to be knee deep in other work when I got there, but they stopped what they were doing and went right to work on my machine. Steve himself, greeted me as if I was a long lost old friend, instead of just another customer. That sure made me feel good. I gotta say I went away with my head spinning from all the wonderful and complete service I received there at The Leather Machine Co. office/ warehouse! What a great group of guys! Thanks again, Steve, Tony, and Tony!! Joel

---

George Barker
Friday January 7, 2011
Steve had a Cobra on my doorstep within 10 working days, it took less than two hours to unpack it and have it stitching. Thanks for the great service Steve.
From: Estes Park, Colorado

---

Bruce Degnan
Tuesday December 21, 2010
I bought the machine with no experience about one year ago. The set up was easy and the machine was easy to use. Steve was excellent…for an older guy he loads the pickup very well. It was easy to put together easy to operate the instructions were excellent and almost one year to the date the machine has paid for itself. Sometimes I have to refuse work because of time constraints. I've done everything from motorcycle seats to repairing saddles. Steve was excellent in giving me needles and thread of all sizes. In one year I've broke two needles. Other than that there have been no problems. I encourage that if you are going to buy a machine you talk to Steve. He will solve a lot of your problems before you start.
From: California

---

Will Windom
Wednesday November 17, 2010
Picked up my new Cobra Class 4 at the Pendelton show last weekend. Took it home, plugged it in, and started stiching perfectly. Great machine, nice fit and finish and easy to operate. Thank you Steve. It was great to talk with ya in person finally. I am super satisfied in my new machine and look forward to many hours behind it.
From: Spokane, Wa

---

Billy DeMarco
Wednesday November 17, 2010
A year ago I called Al Gould, I was in need a of a machine, He told me about Steve so I called him, what a nice guy to do business with, The corba class 4 is everything Steve said it woud be an more, It's a great machine,easy to use,trouble free, I am ordering a class 17 soon, Thanks so much steve,
From: northwest CO

---

Ray Cory, CoryCo LLC dba: Lobo Gun Leather
Sunday November 7, 2010
Called Steve last Monday morning and ordered a Cobra Class 4. 5 business days later it was delivered. Set up took 85 minutes from the time the machine was unpacked until I was stitching. Great machine, great service! Highly recommended.
From: Pueblo, Colorado

---

Debbie Swank – Cottonwood Ranch Designs
Sunday November 7, 2010
I had been sewing on an Adler 124 Flatbed machine. I started making chaps for a rodeo school. I decided it was time to upgrade my machine. After considering several different machines, I purchased a Cobra Class 4. I absolutely Love it!!. The machine sews beautifully and came with a variety of different presser feetsome I have not even had a chance to try out yet. I can sew heavy leather and then switch to light weight chap leather trim without having to adjust the tension on the machine. It helps to give a more professional finished look to leather projects. My decision to go with the Leather Machine Co's Cobra was based on customer service. When I first setup the machine, I had a couple of questions but they were quickly answered with a phone call. When you make this type of investment in your business, it is well worth a few extra dollars to know that you have someone who knows their product inside and out, and stands behind it. Steve and his crew are not finished when the check is in the bank, customer service follows and is just a phone call away!! Thanks Steve
From: Ottawa, Ks

---

Cross Bar S Leather LLC
Sunday November 7, 2010
I have been using a Cobra for about 2 years now and have had no problems. I is an outstanding machine for my holster business.
From: 2362 Old Garden Valley, Roseburg,OR 97471

---

Jeff Fisher
Tuesday July 27, 2010
A few years ago I purchased a brand name manual leather stitching machine. After months of frustration trying to keep it in adjustment, it became a $1200 hole punch and I started hand stitching everything again. Last year I started to look for a power machine. After a lot of research, I called Steve at the Leather Machine Co.. I was hesitant to spend the money on the Class 4 Cobra machine, but I finally decided to take the plunge. My purchase has proven to be an excellent decision. I love my Cobra Class 4 machine. The machine sews beautifully and came with a variety of different presser feet. I can sew heavy leather holsters and then switch to canvas webbing or upholstery leather without having to adjust the tension on the machine. The Class 4 was easy to learn how to use even for someone who has never used a power machine. With just a few test runs, I was able to start sewing immediately What sets the Leather Machine Co. apart from some other suppliers is customer service. I had some questions when I originally setup the machine. A quick call to Steve and all my questions were answered. I highly recommend Steve and the Leather Machine Co.. You can spend more money, but I don't think you can buy a better machine or the customer service that comes with it.
From: Chattanooga, TN
Bob Klenda – Master Saddle Maker, 2010 Al Stohlman Award Winner
Tuesday July 20, 2010
"Steve, the master of friendly service. When I call Steve with a problem, I know that he will understand my problem and provide me with a solution. Since I received my new Cobra Class 4 Dream Machine, I have been sewing things that I never thought were possible. This machine is versatile, and sews flawlessly. I am very impressed. Thank you, Steve"

---

Nanci Rogers
Tuesday June 29, 2010
Ok, I too would like to write a testimonial about my new "Dream Machine". I would attribute this to the amount of times that I've called for some "how to" advise and have gone on about the machine and what its done for my business. In short, I can only say that the quality of my work has improved dramatically. I find the machine effortless and compatible with the wide variety of leathers that I work with in my shop, Ace High Leathers. The variable speeds allows me to pick and chose as the piece requires. The ability to go from very thick thread to 138 allows me to create finer high quality products with the precision that this particular machines offers. Needless to say the name "Dream Machine" is quite appropriate and Steve's excellent customer service are both unsurpassed.
From: Montague, CA

---

Katherine Harmon
Thursday June 3, 2010
I purchased a COBRA CLASS 4 in April 2010. The treading was easy the bobbin was easy and the speed is great,easy to turn up or down with just a tonch. Love the foot control. If you want a great machine at a great price with great service buy from The Leather Machine Co. I'm very pleased with this machine and will buy my next machine from Steve.
From: Ar

---

Mike Wright
Tuesday May 4, 2010
I have a Cobra Class 4 machine that I am nothing but happy with. It was easy to set up and to learn to operate. It sews heavy leather, light leather and anything between. Steve told me the Class 4 was all of these things and he is a man of his word. MW
From: Paris, IL

---

Joel Edwards
Wednesday March 17, 2010
I have a cobra class 4Dream Machine I absolutely love it. It sews very nicely. If I need help with something,Steve is there to guide me along. When I find I have a need for a smaller machine, or one of a different type I will get it from 'The Leather Machine Company', where you get great service, and always with a friendly enthusiastic smile. Joel
From: Redlands, CA

---

Bud and Pam Jones
Monday March 1, 2010
Hi Steve, I've been looking for the right machine for about a year. Looked at quite a few in Sheridan last year. The class 18 does just what I need and a little more. It sews through a couple layers of 8-9 oz leather like it is butter. I'm still a newbie, I've been doing leather work for about two years and getting a machine has made life a lot easier.
From: Columbus, MT

---

Pete Gorrell – Master Saddle Maker, Al Stohlman Award Winner
Tuesday February 9, 2010
"My new COBRA Class 4 runs smoothly and sets the stitch nicely. The deep throat is great for sewing large items. It is a joy to use, thanks Steve"…….Pete Gorrell

---

Alan Townley, Sunset Saddles
Wednesday January 27, 2010
WOW! I just got my class 4 and WOW, what a machine! This is a quaility machine, pulls a nice tight stitch, everytime, I would certainly recommend to anyone, you won't be sorry. Steve was easy to work with and stayed in touch as to the status of my machine arriving. I had been using a Tippman Boss, what a difference between the 2 units! I looked at a lot of differant machines and am so glad I found the Leather Machine Co.
From: Alto, NM

---

Gary Wiles
Wednesday January 27, 2010
Over the last 7 years I have had the pleasure to work with Steve resulting in the purchase of 3 machines. In that period, I have found Steve to provide the very BEST customer service I have ever experienced. Steve bends over backwards to provide support, answer questions, and correct problems both before and after the sale. Steve's total commitment to his customers is truly unique in this day and age.
From: New Mexico

---

Richard Moorer
Tuesday January 12, 2010
i had wanted a leather machine for awhile and looked online for 2 months before deciding on a cobra4…this is my first machine and i'm very happy with it. read a lot positive things about Steve's customer service…so i called and ordered from him.
From: Charleston, South Carolina

---

Larry Ray
Tuesday January 12, 2010
Steve I received my COBRA 3 leather sewing machine last week. The delivery service was great. They called two days ahead of time to let me know it was on its way and also called a few hours before the day of delivery to make sure there was someone to recieve the delivery. The machine is simply amazing. Love the dark brown and tan colors. After using a Tippmann hand operated sewing machine for years there is no comparison between the two. I put it to the test right out of the box by sewing four layers of 12 oz leather was about half an inch thick total. The COBRA 3 went thru it like butter with a smooth and beautiful stitch! This is far thicker than any project I will ever be working on. I also sewed some garment grade leather. AMAZING! The machine is heavy enough to sew thick leather as well as delicate garment grade leather of about 4 oz with noproblems at all. You have a winner with your COBRA machine line of leather machines.
From: Winston Salem, North Carolina

---

Jesse Smith – Master Saddle Maker, Al Stohlman Award Winner
Tuesday December 22, 2009
Out of all the machines that I have used, I like the COBRA Class 4 the best. It sews everything that I want it to, perfectly. Steve is a good friend of mine and you can take everything he says to the bank!

---

Hedley Pepper
Saturday December 12, 2009
I purchased the Cobra 4 cylinder bed machine a couple of months ago, and I have to say that it's really upgraded the quality of my output considerably. I no longer feel anxious when I need to sew the leather bags I'm making–I can relax. The machine will sew completely beautifully. The astonishing part is that it's SO powerful, yet is able to sew with tremendous control and delicacy when that's what I need. Then there's the issue of SERVICE! The other thing about Steve is how well known he is in the industry for his extraordinary service, great expertise, and generosity with his time. He's fundamentally a very kind man, with an extraordinarily good set of products, and a great work ethic. Don't look anywhere else.
From: Santa Rosa/Mendocino CA

---

Kevin Adams
Tuesday November 24, 2009
Last week I was on the way home and got a call from Steve Tayrien at THE LEATHER MACHINE COMPANY. https://leathermachineco.com Wanting to know of all things, how my sewing machine was doing. This call caught me off guard as I was thinking what is he selling? I could go on and on about my Cobra Class 3 and all it can do or how much time it has saved me, but this is not going to be about the machine as much as the service. I had been in the market for a sewing machine for a couple of years. I talked to several companies about machines and had set my sites on this style. I was to pick up a machine, NOT A COBRA, at the international show in 2008 and made the trip to pick it up. Well with out going into all of the details I left with out one due to mine had not made the shipment to the show.I went about another 6 months looking at machines and heard that Steve had started his own company. After talking to Steve about the changes he had made to the machine he was selling, and knowing that he is a sewing machine mechanic. The choice for me was a no brainer. At first I had my problems getting it set up as everyone does. During that time I was on the phone nightly with Steve doing the tweaking to get it perfect. Well I guess Steve had not heard from me in a while and thought he should call me. I am happy to report that the Cobra 3 is working flawlessly and never misses a stitch unless it is my fault for not making sure I have enough thread in the bobbin before I start.I am so happy with my machine that this year it will be at the Extreme Leather Workshop in Al Gould's Class to Stitch the Breast collar. I would not let it go out to be used in a class environment if it were not a bullet proof machine besides I have Steve on the sidelines should I need any help with it. I guess you can tell when I am happy with something I want to tell everyone about it. With follow up service like that, The Cobra Line of Stitcher's has earned the title of Official Machine used in the Hides To Art Workshops.Kevin Adams

---

Rob Bennett
Sunday November 22, 2009
I bought the FIRST Cobra Class 3 sorry Steve had to brag and got Steve's customer service and friendship for free. I will have to say I am very happy with everything!!!!! Buy here I promise you will not be sorry because you're getting the best customer service ever and that's what you really are looking for in a machine!!!!
From: Oakboro, NC

---

Brian Horrocks Twist & Turn Designs
Sunday November 22, 2009
I recently purchased a class 18 machine from Tim Cox at Zack White Leather. And it is everything promised and then some.Kudos!!!
From: North Platte NE

---

Joshua Olschewski
Sunday November 22, 2009
I have never used a sewing machine up till My class four and I have had no problems I caught on right away, its a beauty of a sewing machine. The biggest thing to me how ever was the amazing customer service Steve is great to work with. Josh Dusty Chap Leather
From: UTAH

---

Brian – Texas Leather Company
Sunday November 22, 2009
Our new Cobra Class 3 has been the best investment. Great customer service.
From: Fort Worth, TX

---

Chan Geer
Sunday November 22, 2009
I've always been very satisfied with all of my dealings with Steve. He has always treated me fair…..Chan Geer

---

Tim Cox
Wednesday August 26, 2009
"my customers preferred the COBRA over my competitors 4 to 1"
From: Ramsuer NC

---

Bob Scott – Hall of Fame Saddle Maker
Friday August 21, 2009
"I trust Steve with all of my sewing needs"

---

Carl Chappell- Legendary Boot Maker
Friday August 21, 2009
"Steve is trustworthy and knowledgeable"

---

John Bianchi – Legendary Holster Maker
Friday August 21, 2009
"Steve's customer service is second to none"

---

Al Gould – Master Saddle Maker, 2009 Al Stohlman Award
Friday August 21, 2009
"Credibility is Steve's Middle Name"

---