Quality products, professional results!
We sell and service top quality leatherworking machinery for the Leather and Tack Trades. We provide top quality leather sewing machines made especially for the leather worker. Our new line of heavy duty Leather Stitchers are the finest on the Market. Our Mission is to provide you with the finest machinery and service available. Service is our specialty- please call for assistance and service for any competitors' machinery. We have the skills, tools and experience to assist with all leather machinery. We are pleased to show you how to get the most out of your machine! The COBRA CLASS 3, COBRA CLASS 4, and the KING COBRA CLASS 4-25 come with many new features and, with our new style heavy duty multi-purpose presser feet, designed for sewing everything from bullet loops, to skirting, to chap leather, and everything in between. They are strong and compact, allowing you to sew in small areas easier than ever before! PLUS New Enhanced Colors For The Leather Trade.
Leather Machine Co., is now INTERNATIONAL
We stand behind every piece of equipment sold with a "Limited Lifetime Warranty"… Steve Tayrien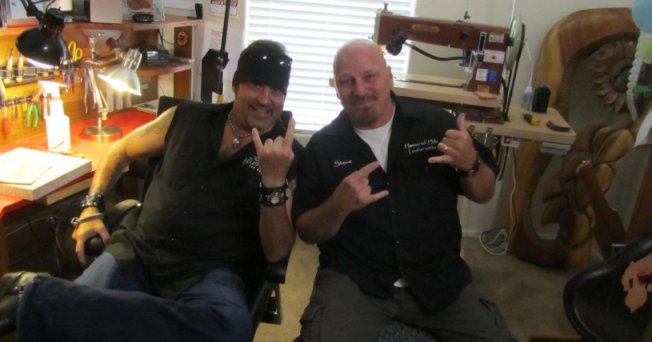 Here are Danny "The Count" Koker and Steve Gilworth with Steve's COBRA Class 4. Steve owns Hammered Hide Leatherworks in Las Vegas and does custom leatherwork for Danny. Danny owns Count's Kustoms, also in Las Vegas and is the star of Counting Cars, a television show on The History Channel.
Leather Machine Co. Inc, was recently honored by a visit from Steve Gilworth of Hammered Hide Leatherworks in Las Vegas. Here are Steve Tayrien and Steve Gilworth and some COBRA Class 4 machines in our workshop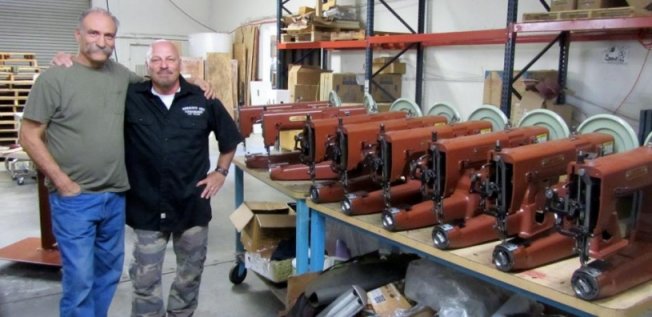 The Leather Machine Company welcomes inquiries from all realms of the leather trade.  We support teachers, instructors, students, leather guilds, leather forums, and the entire leather industry. We are active on leatherpros.net, a website designed to aid leather crafters all over the world with the best advice available by allowing you to talk to the professionals in almost all the areas in the leather industry. All of the "Resident Pros" are well established in the Leather Industry and have the credibility, integrity, and respect from all. Visit leatherpros.net today!